Presidential talent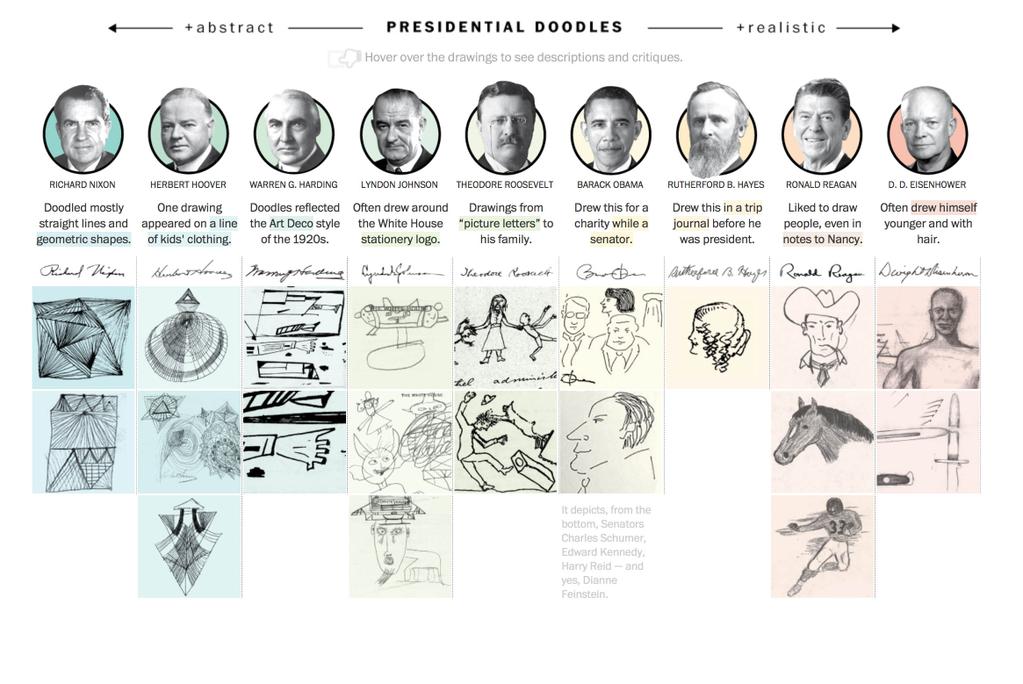 Now I don't believe that the president will walk up to the whiteboard, grab a pen and will draw to make things clearer for everybody in the room.
"Do you mean this secretary of state? [doodle insert]"
But they will be in meetings where the subject might be a little less interesting than say, a drawing of a horse – no judgement-. And they will take up their pen and make a little doodle.
Why?
To keep the brain going? To prevent falling a sleep? To keep appearance up? "Hey I'm writing down what you are saying!" Perhaps a little of .. uh ..everything above maybe?
Now, some of you might go: "I never thought the president could draw."
Which is as absurd as the complete opposite. Why wouldn't he? He has arms, hands. A brain that is highly visual. He probably had some form of schooling. Where pencil where provide and paper was still your best friend. And didn't need a power supply and wifi to share stuff.
Why wouldn't you draw?
There's barriers right? And maybe for the president of the United States these barriers might be a little less intimidating. Right? You're the president! Leader of the free* world. You break down barriers bigger than this during breakfast.
But…
…imagine a whole planet looking over your shoulder looking at something you are creating. How about that for a barrier?
Summary
So what is boils down to is that you are the president of your own paper. And in order to break down barriers you need can start drawing. Or concrete:
Step one: Put pencil on paper.
Hack, the president does it! So what's holding you back?
The Washington Post article Artisan Politics.
* Free as in constantly spy-ed upon, semi democratic, ruled by capitalists who believe in freedom of money only, but more free than say …uh… Russia?